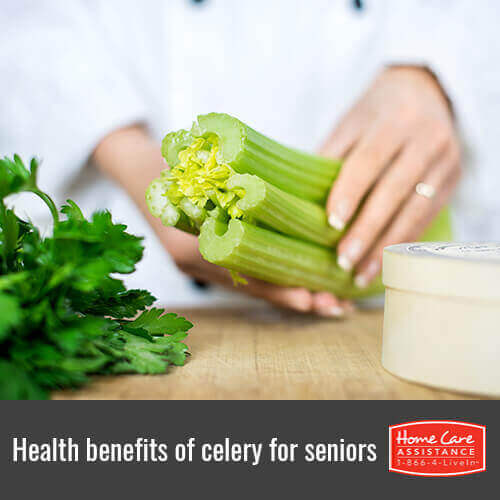 April is National Fresh Celery Month, and the Roseville elderly care experts at Home Care Assistance want to share a few reasons why this vegetable is so healthy for seniors. Since celery is so simple to include in your senior loved one's diet, these 5 health benefits may make you consider it a regular necessity.
1. It Aids in Digestion 

Many seniors experience constipation due to chronic health conditions, inadequate fluid intake, and prescription medications. Celery has a very high water content and is rich in insoluble fiber, which can help soften stool. However, it is important to note celery also has diuretic and cleansing properties, which means your loved one should avoid eating it if he or she has diarrhea.
2. It Helps Fight Cancer
Celery contains flavonoids called luteolin and apigenin, which have been linked to the destruction of certain cancer cells. These flavonoids can also increase the effectiveness of chemotherapy drugs. In a 2013 study, human pancreatic cancer cells pretreated with luteolin and apigenin responded more favorably to chemotherapy. 
3. It Promotes Eye Health
Age-related macular degeneration is the leading cause of vision loss among people over the age of 60. The condition affects central vision and makes it difficult to see fine detail. One stalk of celery contains approximately 10 percent of the recommended daily allowance of vitamin A, a nutrient essential to maintaining eye health.
4. It Boosts Cardiovascular Health
Celery can help lower your loved one's blood pressure and cholesterol. Raw celery contains compounds called phthalides, which boost circulatory health and lower blood pressure by allowing vessels to dilate and relaxing the muscles around the arteries. Celery is also rich in magnesium and potassium, both of which help regulate blood pressure. The phthalides can also lower cholesterol levels by increasing the amount of bile acid secreted by the pancreas.
5. It Decreases Inflammation
Eating celery may help alleviate your loved one's arthritis symptoms. It is believed that the luteolin and quercetin in celery actually block the signals that trigger the body's inflammatory response. Celery can also inhibit the factors that cause inflammatory responses to allergens. As a result, celery may be beneficial in relieving symptoms of conditions such as gout and asthma.
Maintaining a nutritious diet is one of the easiest ways for your loved one to remain healthy. If he or she needs assistance with meal prep or even grocery shopping, Home Care Assistance can help. Our caregivers are expertly trained in senior nutrition and can also assist with a variety of other tasks. We also offer comprehensive Alzheimer's, post-stroke, and Parkinson's care Roseville families trust. For more information on how our in-home care services can help boost your loved one's health, call one of our Care Managers at (916) 226-3737 to request your complimentary consultation.