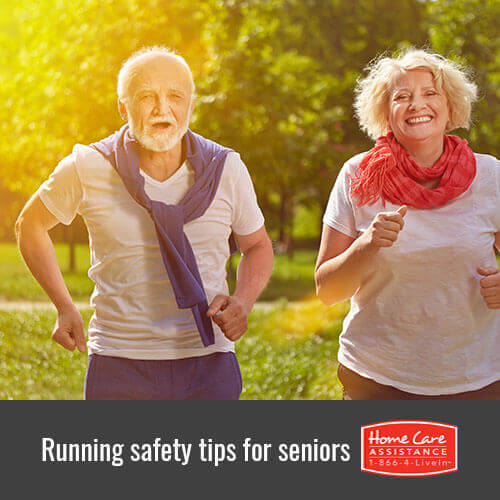 Running is one of the top exercises for boosting cardiovascular health, and seniors receiving home care. Roseville seniors can benefit from the convenience of a quick jog around the block or on their favorite trail. While every runner should follow basic safety guidelines, it is important for your senior loved one to follow some tips designed specifically for older adults.
Wear Proper Footwear
Seniors should focus on finding a comfortable pair of shoes that fit their feet correctly. This is especially true for seniors with health conditions that affect feet, such as diabetes. In addition to finding a good fit, your loved one should make sure the shoes are appropriate for the terrain he or she will be running on. This way, the pressure on his or her joints will be reduced. 
Add Strength Training to the Routine
Many runners simply like to run, and it is common for them to neglect other types of workouts. However, age-related muscle loss can place seniors at greater risk for injuries. Fortunately, adding 2 or 3 days of strength training to your loved one's workout regimen can help prevent this.
Adjust the Rest Schedule
Seniors who push their bodies to the max are more likely to experience an injury or illness after a run. For this reason, it is important for your loved one to take breaks during longer runs and a rest day between challenging workouts. To avoid overtaxing the heart, your loved one should walk and cool down during breaks rather than sitting down abruptly.
Keep People Informed of Whereabouts
Many runners enjoy solitude during their workout, but seniors may find running with a friend provides a higher sense of safety since there will be 2 people looking out for hazards. At the very least, your loved one should inform a Roseville caregiver or family member about when he or she will be running and the route's details. Carrying a medical ID card or other type of identification is also essential for receiving prompt attention should an emergency occur during the run.
Exercising safely can be made easier with the help of a professional caregiver. At Home Care Assistance, all of our part-time and live-in caregivers are trained to assist seniors with physical activity and ensure they remain safe while doing so. We also offer comprehensive Alzheimer's, Parkinson's, and stroke care Roseville seniors and their families can count on. For more information on our senior care services, call one of our Care Managers at 916.472.0605 to schedule a no-obligation consultation.