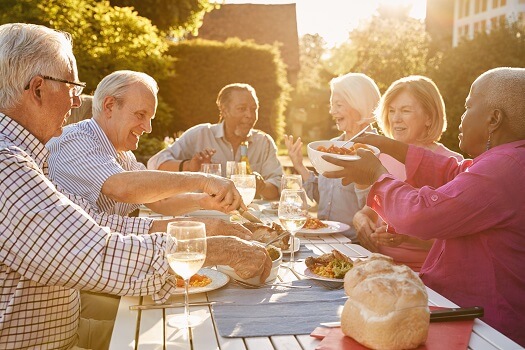 Socialization is necessary for older adults to maintain their emotional, mental, and physical health. However, seniors who live sedentary lifestyles are at a risk of having inadequate social contact. Here are a few ways to help an elderly loved one become more socially active.
1. Address Health Concerns & Impairments
Older adults with hearing or visual difficulties may not enjoy being around people who are unaware of their impairment. Make sure your loved one gets the medical interventions necessary to overcome the issue. If a physical impairment interferes with mobility, provide your loved one with the equipment needed to gain some semblance of independence.
Living independently is important for seniors who want to maintain a high quality of life. For some, this simply means receiving help with tasks that have become more challenging to manage over time. Even when families have the best intentions, they may not have the time to provide the care their elderly loved ones need and deserve. If your loved one needs help for a few hours a day or a few days a week, reach out to Home Care Assistance, a trusted provider of respite care Roseville seniors can depend on.
2. Host a Dinner
Help your loved one prepare a meal, and invite other friends or family members over for a luncheon or dinner. Sometimes, seeing welcoming faces and feeling appreciated is all it takes to brighten a senior's day. Your parent can increase the social possibilities by starting a book club, craft circle, or other activity that accompanies the meal.
3. Provide Social Networking Suggestions
There are many social sites and chat rooms online where seniors can meet with others who share their interests and values. All your loved one needs to make a new network of friends is a desktop PC, laptop, or mobile device with an internet connection. At first, your parent may only be willing to occasionally chat with family members or close friends. However, in time, your loved one can broaden his or her social horizons. 
Regular socialization is just one of the many ways older adults can boost their overall health. Seniors who want to remain healthy as they age can benefit in a variety of ways when they receive professional senior care. Roseville, CA, Home Care Assistance is here to help your loved one accomplish daily tasks, prevent illness, and focus on living a healthier and more fulfilling life.
4. Suggest Visiting a Senior Center
Many communities have a designated location where seniors regularly meet and engage in various activities, and there is bound to be an activity that sparks your loved one's interest. Seniors meet regularly to play games, hear guest speakers, or volunteer in the community. If needed, offer to provide transportation for your loved one so he or she can get out of the house and meet new people.
5. Sign Up for a Class Together
Encourage your parent to join a class offering a subject that appeals to both of you. Many community locations offer classes on a wide range of topics, including arts and crafts. Perhaps both of you have a love for a particular academic subject. Attending a class provides the chance to learn more about a given topic, and the accomplishment achieved by attending and passing the class may boost your loved one's self-esteem.
6. Encourage Attending Church Functions
Community churches regularly host special programs throughout the year. They may host an interesting guest speaker, offer a children's presentation, or present a holiday program. Encourage your loved one to attend the functions with you. Perhaps he or she might be willing to regularly attend weekly church services if accompanied by a family member.
Older adults who need regular social stimulation should consider professional in-home care. Get in touch with Home Care Assistance Roseville to find out how one of our caregivers can help your aging loved one live a longer, healthier, and happier life. Our caregivers are available 24/7, all of our senior care services come with a 100% satisfaction guarantee, and we never ask our clients to sign long-term contracts. To schedule a free in-home consultation, give us a call at (916) 226-3737 today.