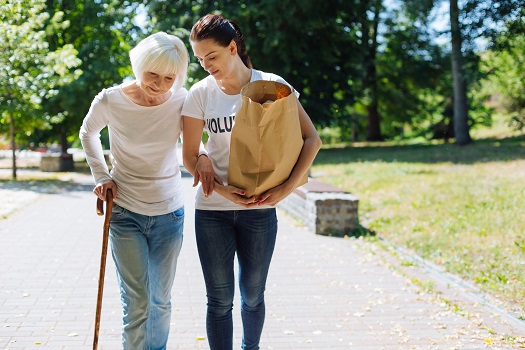 Volunteering is a great thing to do at any age, and many seniors are in the perfect position to spend time helping out in their communities. You'll also discover there are so many different types of volunteer positions that it's easy to find one that matches your aging loved one's abilities. When seniors volunteer, they enjoy the following benefits that make every moment they spend helping others worth it.
1. Regain Confidence After a Health Setback
Seniors sometimes experience health challenges that influence their mindset. For instance, your loved one may no longer feel confident about being an important member of the community if he or she can no longer walk without assistance. However, he or she can still do volunteer work such as helping with telephone campaigns or tutoring children after school. Volunteering may help your loved one feel like a contributing member of society.
2. Find New Ways to Engage the Brain
Your loved one also needs to keep doing new things as he or she gets older. Encourage volunteering in a field or position that's completely new to your loved one. While learning how to perform the duties required for the new position, your loved one can strengthen his or her cognitive abilities.

Many seniors need assistance with transportation, and if you usually help your loved one get out and about but need a break now and then, consider having a professional caregiver take over for you. Family caregivers sometimes need a break from their caregiving responsibilities. When they need respite care, Roseville families can rely on professional caregivers to help their senior loved ones remain safe at home.
3. Maintain a Sense of Purpose
Retirement also brings an opportunity for seniors to carve out a new place in life where they know they're needed. Your loved one can choose to volunteer in a role that's aligned with his or her past career. Being able to share information with authority allows your loved one to continue to retain the skills and knowledge he or she has now.
4. Make True Connections with Others
Older adults also need to feel socially connected in their communities. Volunteering puts seniors in touch with other people who have the same desire to help others. Your loved one can also talk to new people every day, and he or she will always have a great topic for conversation when he or she can share about the new role.
Social isolation can result in mental, emotional, and physical challenges for aging adults, but they don't have to manage them alone. In Roseville, senior care agencies can be a great boon to seniors. With the help of the caregivers at Home Care Assistance, your aging loved one can lead a happier and healthier life. We offer a revolutionary program called the Balanced Care Method, which encourages seniors to eat nutritious foods, exercise and socialize regularly, and focus on other lifestyle factors that increase life expectancy.
5. Return Gestures of Kindness
Hardships can happen to anyone, and many seniors rely on others for help during times of need. Whether your loved one had someone else bring groceries over or needed financial assistance, being able to give back to the community allows him or her to feel better about accepting help. Your loved one might even be able to volunteer for an organization that helped him or her in the past to complete the cycle of kindness.
6. Reap the Benefits of Staying Active
Your loved one also needs to stay physically active, but it may be difficult to get moving if he or she stays home all day. A volunteer position provides motivation to get off the couch and be engaged in the world. While your loved one needs to choose a position that's safe for his or her abilities, it's great if the volunteer duties involve a bit of walking or upper body movement.
Volunteering can make a huge contribution to robust mental and physical health in seniors. Not every senior has the same care needs, which means they don't all need the same type of at-home care. Roseville families can rely on Home Care Assistance to provide individualized care plans to meet your elderly loved one's unique care needs. Our holistic Balanced Care Method was designed to help seniors focus on healthy lifestyle habits such as eating nutritious foods, exercising regularly, and maintaining strong social ties, and our Cognitive Therapeutics Method offers mentally stimulating activities that can stave off cognitive decline and delay the onset of dementia. If your loved one needs professional care, Home Care Assistance is here to help. Call one of our dedicated Care Managers today at (916) 226-3737 to learn about the high quality of our in-home care services.