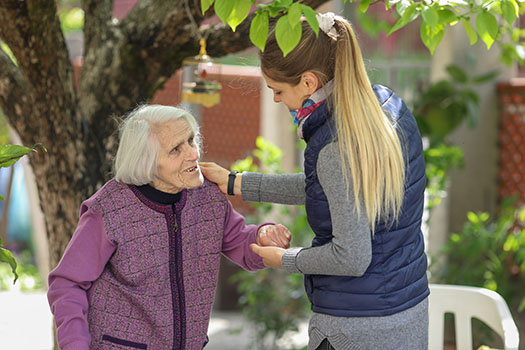 The journey for new Alzheimer's caregivers can be long, stressful, and very emotional. However, with a great care plan in place and the support of family and friends, the days can be less challenging and more beneficial for both seniors and their caregivers. Here are some strategies and activities that should be in an Alzheimer's care plan for new family caregivers.
Discuss Living Arrangements
Deciding where your senior loved one will live ensures his or her needs are met and allows your family to create a consistent schedule. In the early stages of the disease, your loved one may be able to remain at home, as long as you and other family members check on him or her daily. You could also hire a respite caregiver to help out and ensure your loved one's needs are met. As the disease progresses, your parent may need to move in with you or another family member. Planning ahead and deciding where your loved one will live can make things less challenging in the future.

One of the first things to consider is whether and when to hire a professional caregiver for your loved one. Families looking for top-rated senior care providers can reach out to Home Care Assistance. From respite care to specialized Alzheimer's, dementia, stroke, and Parkinson's care, there are many ways we can make life easier for seniors and their loved ones.
Stay Consistent
Creating a schedule provides your loved one with a daily routine that can boost his or her memory and mental wellbeing. This schedule should include mealtimes, bedtime routines, daily activities, bathing, and grooming. Plan the tasks and projects accordingly, and try to schedule activities when your loved one is at his or her best. Maintaining a consistent routine can help your parent maintain a stable mood.
Join an Alzheimer's Support Group
Learning from the experiences of others is beneficial for everyone, especially new family caregivers. While at support group meetings, you can share your personal stories and receive tips from other people who have gone through similar situations. Having a safe place to share feelings without feeling guilty or embarrassed is necessary for caregivers. Keeping these emotions bottled up could affect your mental and emotional health and increase the risk of caregiver burnout. The objective of an Alzheimer's support group is to connect you with others and reduce stress, fear, and the risk of isolation.
Use Resources
You're never alone when caring for an elderly parent with Alzheimer's, even if your family members and close friends are unable to step in and help. There are local and national resources available for seniors with this disease, such as transportation assistance, free or discounted meals, and help with household renovations and repairs. Speak with your loved one's medical providers to see what type of assistance he or she qualifies for, and make sure to sign him or her up. These resources could cut costs for your family without compromising your loved one's health or personal needs.
A trained Alzheimer's caregiver can be a wonderful source of information and support for family caregivers. Not every senior has the same care needs, which means they don't all need the same type of at-home care. Roseville families can rely on Home Care Assistance to provide individualized care plans to meet your elderly loved one's unique care needs. Our holistic Balanced Care Method was designed to help seniors focus on healthy lifestyle habits such as eating nutritious foods, exercising regularly, and maintaining strong social ties, and our Cognitive Therapeutics Method offers mentally stimulating activities that can stave off cognitive decline and delay the onset of dementia.
Develop Effective Communication Strategies
As Alzheimer's progresses, family caregivers will notice changes in their loved one's communication abilities. Seniors can become confused and have difficulty speaking coherently. In these instances, new family caregivers must remain patient and calm. Responding with frustration could make your loved one lash out verbally or physically.
New family caregivers should remember to:
• Speak clearly
• Use calm and reassuring tones
• Wait until their loved ones respond before moving on
• Use closed-ended questions that require one-word answers
Alzheimer's can be challenging for seniors to manage without assistance, and it can be just as challenging for families who don't have experience in providing Alzheimer's care. Rosevilla Home Care Assistance provides Alzheimer's care seniors and their families can depend on. Our proprietary Cognitive Therapeutics Method was designed to help seniors with Alzheimer's and other memory-related conditions live happier and healthier lives.
Reach out to us at Home Care Assistance if you need compassionate, professional care for your loved one. Call one of our friendly Care Managers today at (916) 226-3737.