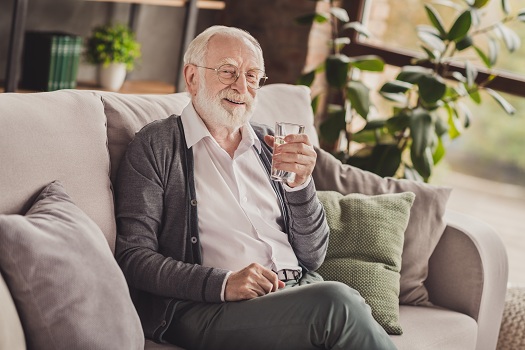 Summer is the season for fun for all ages. The kids are out of school, burgers are on the grill, everyone is heading to the beach, and families are making memories on vacation. It's the perfect time of year to include your older loved one in some family festivities. However, before you do, it's important to keep some senior safety tips in mind.  
1. Stay Hydrated
One of the most important things you can do for your loved one during the hot summer months is make sure he or she stays hydrated. Seniors tend to become dehydrated easily throughout the year, but it's especially important to keep an eye on it during the summer when warmer temperatures cause people to become dehydrated quicker. Always have water on hand, as well as sports drinks and other beverages that can replenish important electrolytes.  
Staying hydrated is just one way older adults can maintain their health. Seniors who want to remain healthy as they age can benefit in a variety of ways when they receive professional home care. Roseville, CA, Home Care Assistance is here to help your loved one accomplish daily tasks, prevent illness, and focus on living a healthier and more fulfilling life.
2. Avoid Excessive Sun Exposure
If you plan to take your loved one outside for activities, try to stick to the early morning hours or wait until later in the evening. Between 10am and 4pm is generally the hottest part of the day and places your loved one at a greater risk for sunburn, dehydration, and other serious heat and sun-related complications. During these midday hours, plan indoor activities like going to the movies, shopping in the mall, reading inside, or eating at a restaurant.  
3. Stay Cool at Home
It's important to make sure your loved one's home is cool on a regular basis, which means ensuring the air conditioner works. If there's no air conditioner, consider having one installed or adding a window unit. Ceiling and floor fans may also be beneficial. Some seniors avoid turning on the air conditioning because they're afraid of higher energy bills. If this is the case, help your loved one find assistance with paying for utilities. Keeping shades and curtains closed can also keep the house cooler.  
4. Eat the Right Foods 
Changing your loved one's diet for the summer can also keep him or her cool, hydrated, and healthy. Snacks like grapes, cucumbers, and watermelon can help with hydration because they're made up of mostly water, and they're nutritious as well. Opting for meals that don't require turning on the stove or oven, like salads and sandwiches, can keep the house cool.
If your loved one needs help preparing nutritious meals, consider hiring an in-home caregiver. The type of elder care seniors need can vary. Some need assistance a few hours a day, while others require more extensive around-the-clock assistance. At Home Care Assistance, we tailor our care plans based on each senior's individual care needs, and the plans can be adjusted at any time.
5. Dress Appropriately
Make sure your loved one has a summer-friendly wardrobe, even if it means a shopping trip before the season begins. Loose-fitting and light-colored clothing are best for being out in the sun. Encourage wearing layers so your loved one can remove jackets or shirts as he or she grows warmer when outdoors. Sunglasses and wide-brimmed hats protect the face and eyes from sun exposure. Look for sandals and other shoes that offer ventilation but don't create a tripping hazard.  
6. Apply Insect Repellent
If you live in an area where mosquitoes are an issue, make sure your loved one is protected, as seniors are more susceptible to diseases mosquitoes carry, such as West Nile virus. Mosquitoes like wet areas, so make sure your loved one's yard is free from standing water. Treat pools and ponds with the appropriate chemicals. Also, make sure your loved one has access to high-quality bug spray when heading outdoors. 
It's important to make sure your loved one stays safe in the summer and all year long. In Roseville, respite care is a great help to many families. Caring for a senior loved one can be overwhelming at times, which puts family caregivers at risk for burnout. However, an in-home caregiver can take over your loved one's care, allowing you the time you need to focus on your own health, maintain a full-time job, or care for other members of your family. Reach out to Home Care Assistance today at (916) 226-3737 to find out how we can best assist your family.