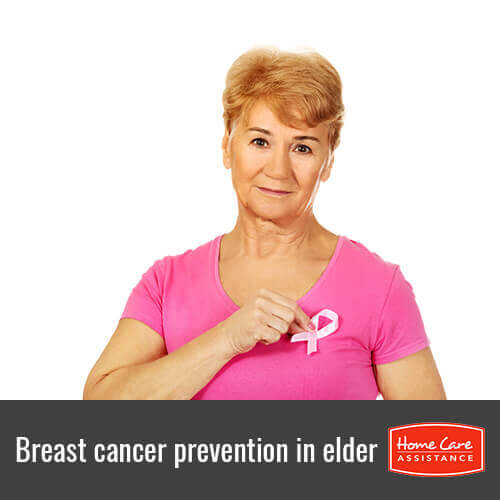 According to the American Academy of Family Physicians, more than half of breast cancer cases involve women over age 65, and the risk for developing breast cancer continues to increase until a woman reaches 80. Though these statistics may seem daunting, Roseville home care experts suggest a few things your senior loved one can do to reduce her risk of breast cancer.
Practice Weight Management
Gaining weight after menopause is a major risk factor for breast cancer. However, many senior women have difficulty maintaining a healthy weight due to other health conditions that affect their diet and exercise. If necessary, arrange for a Roseville caregiver to help with meal preparation and exercise so your loved one can stay within a healthy weight range.
Stop Smoking
If aging skin and lung disease aren't enough of a deterrent for your loved one, it is important for her to know tobacco chemicals have been found in the breast ducts of women who smoke. Quitting this unhealthy habit reduces the risk of breast cancer and many other types of cancer as well.
Limit Alcohol Consumption
Science has shown alcohol increases a woman's estrogen levels. Too much estrogen can cause changes in the ways cells function in the body, which is a primary cause of breast cancer. The current recommendation for senior women is to limit their drinks to one per day at the most. However, this amount may need to be limited even further if your loved one takes medications that interact with alcohol.
Perform Self-Exams
Although performing a self-exam can help catch breast cancer in its earliest stages, many older women are hesitant to do one every month. A doctor can show your loved one how to check for the signs of breast cancer, and special techniques such as draping can be used to minimize any discomfort. You can also play a role in breast cancer prevention by being alert for signs like dimpling of the skin or a rash resembling sunburn, which may be observed while helping your loved one with dressing and bathing. Your loved one can then have any suspicious signs of cancer promptly checked out by her physician.
Help your loved one start reducing her risk of breast cancer today by hiring a professional caregiver from Home Care Assistance. Our expertly trained caregivers can assist with exercise, prepare nutritious meals, provide transportation to medical appointments, and help with a variety of other activities that can help your loved one remain healthy. In addition to respite and live-in care, we also offer specialized stroke, dementia, and Alzheimer's care Roseville seniors can count on. For more information and to schedule a free in-home consultation, call one of our knowledgeable Care Managers at 916.472.0605.